DIESEL GENERATOR SETS
From 6 to 14,040 ekW (7.5 to 17,550 kVA) of power potential, our diesel-fueled generator sets are built to world-class standards, for high efficiency, low fuel consumption and global emissions compliance. Our commercial and industrial generator sets come in a range of options to match your power needs, making selecting and installing simple. Discover power designed for your demands.
Wherever you are and whatever your business, Cat® power systems have been meeting your most critical needs and matching the world's most stringent standards. For more than 85 years Cat generators have been powering the industries and businesses that communities rely on. And with 5 to 16,000 kW, we're equipped to power today and built to power tomorrow.
Any size or shape. In any regulatory environment. When you need power, Caterpillar is equal to the challenge. Our commercial and industrial generator sets are used in a variety of applications.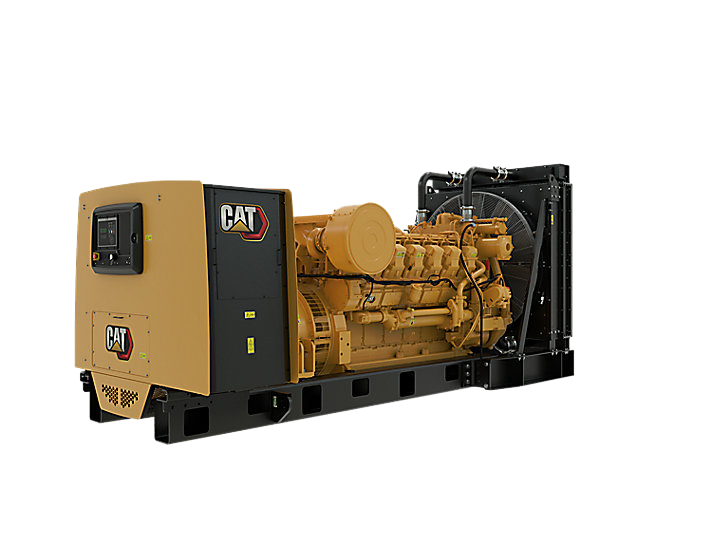 OVER
4,000,000,000
GLOBAL OPERATING HOURS
Proven performance in heavy-duty applications
OVER
200,000
SHIPPED
Since 1981, leading the large engine market
BMEP
19%
LOWER THAN OTHER BRANDS
Provides great block load capability and durability
Caterpillar Diesel Generator Lineup
REAL CAT® POWER, REAL CAT VALUE
When it comes to power, there is no such thing as a convenient outage. It is essential that you prepare for emergencies before choices are limited and loss is unavoidable. Ask yourself, when you are without power, how much do you risk losing per hour, per day, per week?
POWER THAT'S ALWAYS READY
Get value and reliability that can only come from Caterpillar. Our new Cat® GC diesel generator sets share the same quality and performance as our critical application product line but are value engineered to reduce installation costs, valuable footprint, freight costs, and, of course, the cost of ownership. Cat GC generators are valuable genset packages that offer the availability you need to keep your business running during a power outage.
VALUE ENGINEERED SOLUTIONS
Multiple locations and experienced technicians to serve you

Parts availability: 92% fill rate, 99% overnight

Customizable maintenance plans

Emissions compliance with most worldwide regulations

Excellent transient response and steady state performance

All are UL 2200 listed

Long life to overhaul

Open or sound attenuated enclosure is available
"Customers with standby power needs are seeking systems with an optimized combination of capabilities that deliver the productivity and dependability they need while minimizing purchasing and installation costs," said Jason Kaiser, general manager for Caterpillar Retail Electric Power Solutions. "The new Cat GC diesel generator sets have been specifically engineered to offer these customers Caterpillar performance in a valuable package that provides the most commonly specified capabilities."
Do you need help? Have a question? Get a quote?
Fill out this form to get in touch.